A California broker wrote a post about how so many real estate agents are a waste of money. That got me thinking . . .
In the post and a comment, he said, "When the service becomes available that allows the owner to represent themselves in an efficient manner – THEY WILL . . . when the service I envision becomes available the owners will have access to the information they need to represent themselves efficiently and the paperwork will executed online with unusual/exceptional provisions being reviewed by Real Estate Attorneys for a fee — but these fees will end up being substantially less than the current commissions paid to Realtors."
I tried to imagine such a service . . . and even though I was 86′d from 'the thinking box' a long time ago . . . I couldn't get there.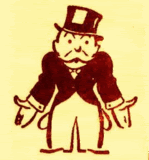 I don't believe that a service will EVER or CAN ever become available that replaces what agent representation provides.
No amount of facts and information, knowledge of statute, level of proficiency in completing paperwork will be able to do that.
The reason is . . .
Information is devoid of emotion.
If the real estate process was completely dispassionate, and owners could truly distance themself from
the home they built a life in . . .
the business they built from nothing . . .
the lifestyle that the piece of land where they would build their dream home on meant to them . . .
the community being relocated to–or away from . . .
the feeling of ego-gratification that comes with 'bragging rights' over making a great deal
the agony of buyers' or sellers' remorse . . .
Well then . . . maybe.
BUT THAT WILL NEVER HAPPEN AS LONG AS PEOPLE HAVE HEARTS, FEELINGS AND EGOS.
Until that wonderful, awful day . . . when we can take a pill that turns our brain into one big left hand side:

People will need to be shielded from the actions of those whose plans conflict with theirs.
People will need to be insulated from days of hours of minutes of seconds of pure stress when deadlines loom large and everyone's dropping the ball.
People will need their heads realigned when they're not seeing the whole picture–or the big picture.
They'll need their feet replanted on the ground when they lose sight . . . or touch.
They will need to be reminded of the cost and value of intangibles–like opportunity. Or freedom.
They'll need to be comforted when the news is very bad.
They'll need a voice of reason when it's too good to be true.
They'll need help thinking through or past 'immediate gratification'
They'll need the call to action when time is the essence.
Or someone who knows someone who can fix things when it all hits critical mass.
Show me the computer program that can do that.
Show me a piece of paper that can do that.
We do it every day. It's a big part of what we do.
So nah. We're not going anywhere. And information's been out there for DIYers for years. Didn't replace us then and won't now.
We're not taking a cut in pay either–if anything, we are earning more–because people aren't averse to paying us. What they want is their money's worth.
And good agents deliver it.
Bullhead City 86442, Fort Mohave 86426, Mohave Valley 86440
Arizona Real Estate On The Beautiful Colorado River ~~~
http://facebook.com/NextWaveREI
866-228-2643
Candice A. Donofrio, Owner/Designated Broker
Certified Commercial Sales Specialist
ALL WORDS AND IMAGES ARE INTELLECTUAL PROPERTY OF CANDICE A DONOFRIO AND NEXT WAVE REAL ESTATE INVESTMENTS AND MAY NOT BE USED WITHOUT PERMISSION. C.2010
Don't even think about it.